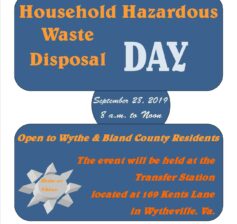 WYTHE COUNTY, Va. – The Joint Public Service Authority of Wythe and Bland Counties will be hosting its annual Household Hazardous Waste Disposal Day on Saturday, September 28, 2019.
The event is open to all Wythe and Bland residents. The day will be held at the Transfer Station located at 169 Kents Lane in Wytheville, Va. from 8 a.m. to noon.
According to officials, acceptable items for the disposal day include: computers and monitors, copiers, TV's, ballasts, fluorescent lights, batteries, paints, poisons and corrosives.
Acceptable items also include: all kitchen cleaners, bathroom cleaners, gardening supplies, pool chemicals, poisons, all automotive fluids, floor care products, glues, wood preservatives, varnishes, paints, solvents, stains, creosote products, mercury produ...
Read More