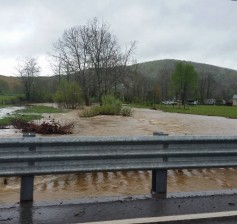 WYTHE COUNTY, Va. – Multiple roadways in Wythe County have been closed due to flooding, as anywhere from 3 to 5 inches of rain have already fallen in the locality and weather forecasters are predicting additional precipitation throughout Monday and into the night which may bring an additional 1 to 2 inches.
In Wythe County, the heaviest hit areas are in the locality's southeastern section, near the New River and its various tributaries. According to USGS data, Reed Creek at Graham's Forge is discharging 5,690 cubic feet per second (its regular discharge rate is roughly 269 cubic feet per second).
The heavy rainfall has rendered several roads impassable in the county, including the following:
Apperson Dr. – Closed by VDOT
Castleton Rd...
Read More