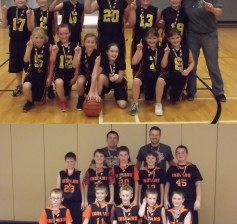 WYTHEVILLE, Va. – Wythe County's Department of Parks & Recreation wrapped up the 2014 youth junior varsity basketball season this week with a championship double header game at the Wytheville Wellness Center.
First to take the court were the fourth and fifth grade boy's tournament finalists, the Max Meadows Pioneers and Rural Retreat Indians (Black). The Indians put up 22 points compared to the Pioneers' 7, in the 24-minute game, capping off their perfect season with a 9-0 record.
Led by coaches Brian Smith and Michael Spraker, the Indians competed against three other county teams over the course of the regular season, earning championship medals for their entire team.
After the boys basketball game, the communities of Max Meadows and Rural Retreat were then represented once again ...
Read More