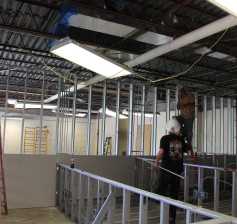 In 2011 the Wythe County School Board contracted OWPR, an architectural and engineering firm based in Blacksburg, Virginia, to perform a facility study on public schools in Wythe County.
The study's goal was to identify and pinpoint the individual structures that stood in the greatest need of repair.  The report deemed Sheffey Elementary School and Rural Retreat Middle School most in need of renovations.
Dr. Wesley Poole, Director of Facilities and Operations for Wythe County Public Schools, says the findings were based upon "a number of qualifiers."
Following the study's release, the Wythe County Board of Supervisors authorized $9 million to be spent in updating the two buildings.
Soon afterwards, the Wythe County School Board named R.L. Price Construction, Inc. the winning bidder on the Sheffey Elementary project and Clark Brothers Company, Inc. the winning bidder on the Rural Retreat Middle School project – both companies are Virginia based.
Poole says the renovations are extensive and include stripping large sections of the schools down to their outer shell in order to properly meet new standards.
"Construction includes replacing the existing plumbing system, electrical wires, windows and flooring in sections of the schools with more modern versions."
Contractors are also installing an entirely new heating, ventilation, and air conditioning system that will prove to be more efficient in terms of cost and comfort.
Poole says the schools will also be getting an external facelift.
"Both schools will receive a new canopy entrance to give some character and identity to the buildings."
Phase one of the project began last month when demolition crews began work inside the two schools, with the most extensive work being carried out at Sheffey Elementary School.
Once the new school year begins, officials at Sheffey Elementary plan to relocate certain classes to the school's auditorium – gymnasium, while some Rural Retreat Middle School classes may be moved to the high school while construction projects continue.
Additionally, workers at the Sheffey Elementary School will soon begin construction on the multi-purpose Sheffey Community Center, which will serve as both a gymnasium for the school, as well as an afterhours community center for the county.
With the vast majority of the project set to be completed by August 2014, county officials say the new improvements are part of a greater long – term strategy aimed at enhancing the overall education experience of Wythe County students.