WYTHEVILLE, Va. – The Wythe County Board of Supervisors unanimously voted to honor state wrestling champions from Rural Retreat High School as well as George Wythe High School during their most recently scheduled meeting.
The Board's first resolution recognized the George Wythe Maroons for completing "a very successful 2014-2015 season."
This year, George Wythe High School's wrestling team placed second in the Virginia High School League's (VHSL) Group 1A State Championship, scoring 68 total tournament points.
Specifically mentioned in the resolution was Austin Tolbert who defeated the competition to become the 132-pound weight class' individual VHSL State Wrestling Champion.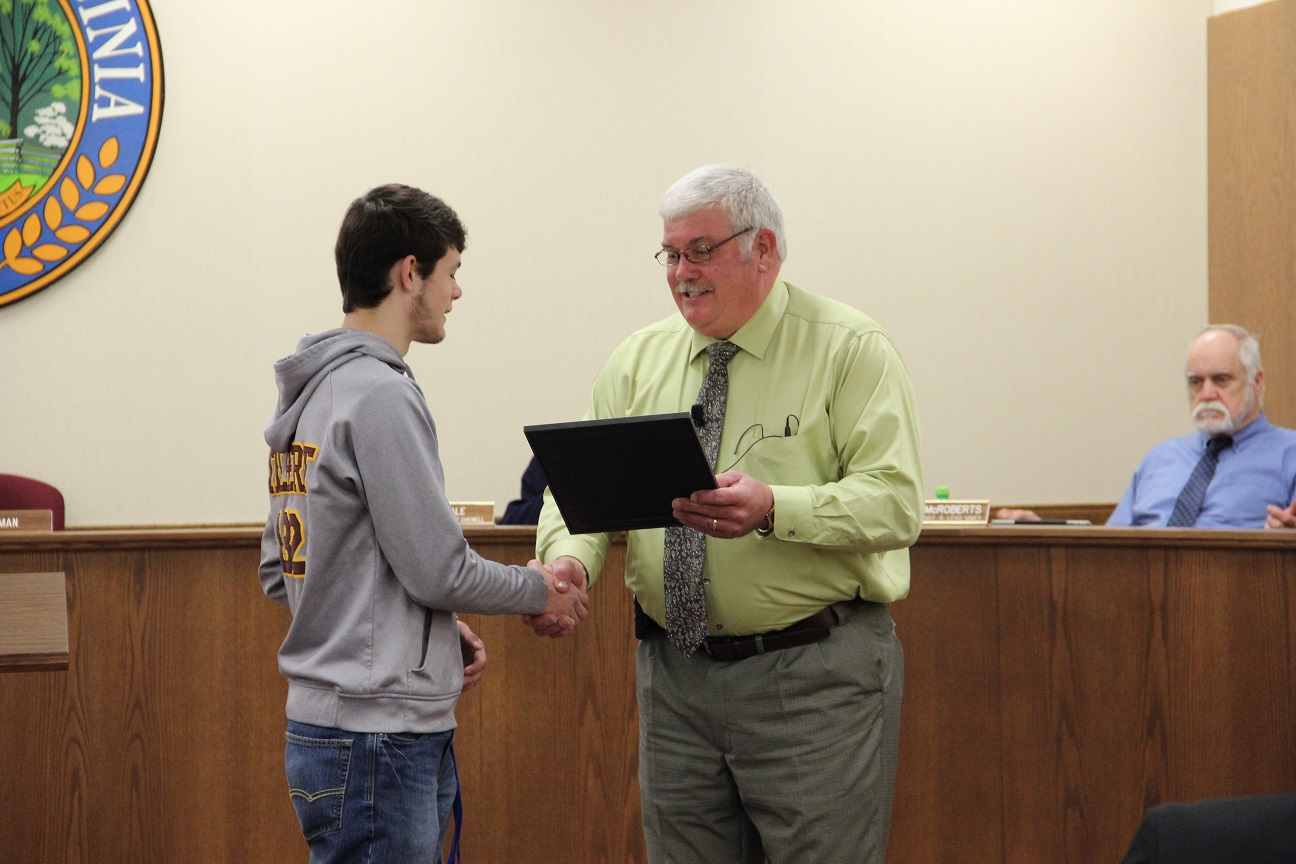 The Board of Supervisors then voted on Wythe County Resolution 2015-06, "A Resolution Honoring the Rural Retreat High School Wrestling Team."
Rural Retreat High School's resolution made mention of the team's perfect 20-0 record in dual meets as well as recognized the school for "winning an unprecedented back to back overall title, earning the designation as Virginia High School League 1A State Wrestling champions for the second year… [scoring] an astounding 176.5 total tournament points and [earning] six individual wrestling weight class titles…"
Individual state champions from Rural Retreat were wrestlers Trey Boyd (106 lb. weight class), Ty Boyd (126 lb. weight class), Josh Penuel (138 lb. weight class), Caleb Snider (145 weight class), Jacob Wynn (120 lb. weight class) and Josh Wynn (113 lb. weight class).
The following wrestlers were a member of this year's state championship wrestling team for the Rural Retreat Indians: Trey Boyd, Ty Boyd, Westin Coley, Logan Deel, Jacob Glenn, Devon Meredith, Harley Mitchell, Trent O'Neil, Josh Penuel, Leighton Powell, Cade Rouse, Caleb Snider, Marshall Taylor, Jacob Wynn and Josh Wynn. Rick Boyd served as the team's head coach.
"The county is very proud of these young men from both schools. Their hard work, sportsmanship and outstanding dedication embody the spirit of Wythe County," stated Tim Reeves, Wythe County Board of Supervisors Chairman.
Click LIKE to share this article with your friends on Facebook!