Earlier this month, the Wythe County Department of Parks and Recreation hosted a day long environmental education event aimed at providing local children opportunities to experience the thrills of the great outdoors.
Participants, all of whom were under the age of sixteen, were treated to multiple hands-on lessons taught by many of the region's premier outdoor teachers. Instructions included lessons in archery, casting, BB gun shooting and safety, and reptile identification.
The event, hosted at the Rural Retreat Lake, was the first of its kind and was sponsored in part by the National Wildlife Turkey Federation.
Additional activities included a butterfly display and lecture from Ellen Reynolds, owner of the Beagle Ridge Herb Farm & Environmental Education Center, an owl pellet dissection and presentation on raptors led by representatives of the Blue Ridge Discovery Center, and a K-9 presentation presented by the Virginia Department of Game and Inland Fisheries (VDGIF).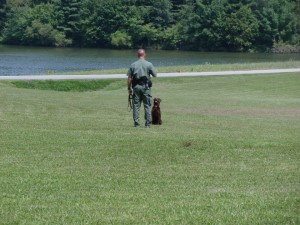 VDGIF officer Wes Billings brought his K-9 partner, Josie, to demonstrate how K-9s assist both Conservation Police Officers and other agencies with law enforcement. Billings talked about the different disciplines the K-9 is trained in, as well as demonstrated the dog's ability to search for illegally harvested wildlife.
The kids were presented with a K-9 trading card with Josie's picture and information about the VDGIF Law Enforcement K-9 Program.
"The day was a great success. We cannot possibly thank each of the partners enough for their help. The children appreciated each of the presentations and hands – on learning opportunities," said Gary Cody, Wythe County's Director of Parks, Recreation and Tourism, adding that his department is already eagerly anticipating next year's event.
The department would also like to thank Trout Unlimited, out of Smyth and Wythe Counties, for their help in making the event possible.
Click Like to Share This Article With Your Friends on Facebook: