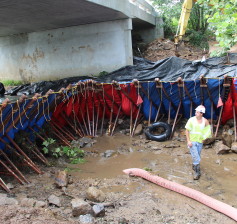 As the last major portion of Wythe County's Speedwell Waterline Extension project steams toward completion, construction crews are now tackling many of the project's greatest obstacles, including crossing the winding stream, known as Cripple Creek.
Beginning their work on Monday, construction crews from Central Builders and Cherokee Construction worked to build a cofferdam around the north bank of the brook, just inside the community of Speedwell.
After a cofferdam was successfully constructed, crews pumped the dammed area Tuesday morning and then proceeded in digging a trench three feet below the creek bed.
Workers then installed the waterline along the northern section of the creek, before encasing the pipe in concrete.
Wednesday's often rainy weather slightly delayed the work, however, crews continued their operations on Thursday, along the southern side of the creek – ultimately  laying the 350 feet of pipe that spans Cripple Creek by Friday evening.
The work is part of a greater operation aimed at providing water to residents along multiple roadways, including Grayson Turnpike, Cripple Creek Rd., Crockett Rd., Tabernacle Rd. and Old Stage Rd.
In addition to supplying residents along the waterline's path affordable and dependable drinking water,
Bill Vaughan, Wythe County Engineer, says the new line will also be a critical component in providing an added measure of security to county residents.
"This new waterline will increase public safety in the area by providing a reliable source of water for the local fire department by removing the need to draw water from dry hydrants or more distant existing hydrants."
Additionally, Vaughan says the water will be cleaner and "not subject to contamination from surface bacterial sources."
Construction on all portions of the present waterline projects are expected to be completed by December of this year.
Once construction is finished and health officials test the water, local residents will then be permitted to hook up – this is projected to occur in January 2014.
Click "Like" to Share This Article With Your Friends on Facebook!