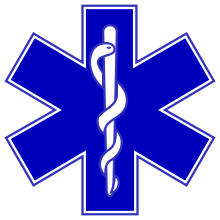 Last month, county officials tasked the Wythe County Rescue Squad with serving the Lead Mines Rescue Squad's former coverage area; mandating that qualified emergency responders be based out of the Wythe County Emergency Services Building, located along Fort Chiswell Road, in Fort Chiswell.
 With responders being ready to go, around the clock, data from the county's emergency communications center is proving their decision was for the betterment of the people.
 According to the E-911 center's data, emergency response times in the area have been cut by a total of more than three minutes since the Board voted to dissolve the Lead Mines Rescue Squad.  This is significant, because numerous studies have proven that there is a substantial correlation between the final outcome of a patient's health and the response times of qualified medical personnel.
 Additionally, E-911 data revealed that between the dates of August 14 and September 6, 2013, Wythe County Rescue Squad had zero rollover calls.  This number can be compared to eighteen calls rolled over by Lead Mines Rescue Squad for the same area between the dates of July 1 and August 12, 2013.  Rollover calls occur when an emergency rescue squad is unable to answer to the request of a citizen and the nearest rescue squad from another agency is forced to respond.
 Earlier this week, county officials were able to reach a consensus in their effort to ensure local residents receive the highest level of care possible.  They agree that that emergency response units dedicated to servicing the area will maintain the identity of "Lead Mines."
 The Board of Supervisors will be voting upon their final resolutions regarding the future of emergency services for the eastern portion of the county at a later date.
 Encouraged by the data which confirms that his organization is surpassing expectations, J.D. Hancock, Executive Director of the Wythe County Rescue Squad thanked his organization's career and volunteer personnel.
 Hancock added, "Since the county asked us to expand our coverage area to include eastern Wythe County, our agency has responded to 242 emergency calls, 66 of which have been in that area. We have crews stationed in both Wytheville and Fort Chiswell 24/7 with advanced providers to ensure citizens receive the care they need quickly."
Click "Like" to share this article with your friends on Facebook.