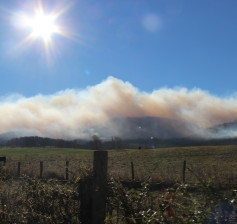 SPEEDWELL, Va. – The United States Forest Service will be hosting a public meeting to discuss the national forest fire in Wythe County's section of the Mount Rogers National Recreation Area.
The meeting will be held in the gymnasium of Speedwell Elementary School and is scheduled to begin at 6 p.m. tonight.
Officials from the U.S. Forest Service and Wythe County will present current information regarding the status of the national forest fire. All members of the public are invited to attend and a question-and-answer session will follow the presentation.
As of Friday morning, U.S. Forest Service officials were stating that the 500 acre fire was approximately 15% contained.
The fire, which is located entirely on federal government land, is being worked solely by federal and state fire fighters. Local volunteer fire departments are on standby in the event that additional resources are needed and the Speedwell Volunteer Fire Department's firehouse is being used as a base of operations.
Wythe County emergency officials are remaining in constant contact with fire crews and are closely monitoring the situation, including the effects of smoke.
Virginia Department of Environmental Quality advised residents with asthma and respiratory problems downwind of the smoke to remain indoors if possible.
According to the National Weather Service, Wythe County is expected to receive roughly 1/10th of an inch of rainfall this evening.
The fire is burning in steep rugged terrain, on Horse Heaven Mountain. Access to the fire remains difficult due to the remote location of the fire. Dry conditions combined with low relative humidity and an increase in winds will allow this fire to burn through the weekend. Fire crews will utilize backfiring to help with containment efforts. No structures are currently threatened at this time.
Click LIKE to share this article with your friends on Facebook.