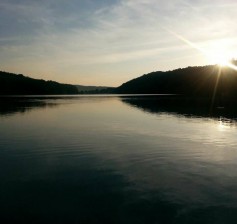 Rural Retreat, Va. – Wythe County's Rural Retreat Lake Campground Park will be hosting "Kids Fish Day," this Saturday, May 17th.
The annual event is made possible by the Virginia Department of Game & Inland Fisheries (DGIF), in an effort to provide unique fishing opportunities for young anglers and park visitors.
Registration for the free event is set to begin at 8:30 a.m. at the lake's trout pond, with youth fishing lasting from 9 a.m. and until 1 p.m. During this time, only children 15 and under will be permitted to participate in fishing at the lake's trout pond; located on the south side of Lake Rd. Adult supervision will be required for all participants and snacks will be provided to the children.
In addition to having DGIF wildlife experts on site, providing educational opportunities to the young fishermen, the Wythe County Parks & Recreation Department will be awarding door prizes donated by local businesses.
"Youth Fish Day is a great way to kick off the official opening of the campground and we're expecting many of the county's young people to participate in the event," said Wythe County Parks & Recreation Director Kevin Williams.
Though the lake remains open year round for fishing, boating and hiking, the campground opens to the public on Thursday of this week.
"We're hoping local families will make a weekend of this event and camp at the lake Friday night, then participate in the youth fishing event Saturday morning," said Williams.
The trout pond will reopen to the general public after the event has ended. The Rural Retreat Lake will remain open to anglers of all ages throughout the entire day Saturday.
Individuals interested in camping at the Rural Retreat Lake Campground are encouraged to make a reservation by calling 276-686-4331.
Click LIKE to share this link on Facebook!