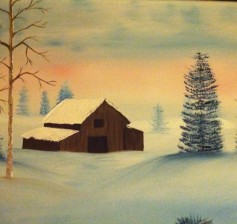 (PICTURE: Painting by Debbie Johnson Cassell, student at last week's Bob Ross painting class.)
WYTHEVILLE, Va. – Over the past few years, Wythe County's Department of Parks & Recreation has been offering a once-a-year, afternoon Bob Ross painting class for local citizens to attend.
Held inside the Max Meadows Ruritan Building, the classes have continued to grow in popularity, attracting attendees from across the region.
This past week, county residents were again provided with the unique opportunity to paint a duplicate of one of the legendary artist, Bob Ross' masterpieces – a snowy barn scene which appeared on Episode 12 of the thirty-first season of his long running television show, The Joy of Painting.
Led by certified Bob Ross instructor, Judy Moore-Gist, participants were instructed on how to use the "wet-on-wet" painting technique used by Ross.
Among this year's first-time students, was longtime Wythe County resident Debbie Cassell.
Sharing her picture, Cassell stated, "It was a really great class."
Cassell was not alone in her assessment of the Bob Ross painting class, Wythe County Parks & Recreation director, Kevin Williams, said the response was so great following this year's class, that his department will offer two additional painting classes this spring – another one in Max Meadows and one in Rural Retreat.
The Max Meadows spring class is scheduled for March 2015 and will be held inside the Max Meadows Ruritan Building, while a class will be held the following month inside the Rural Retreat Community Center.
Kevin Williams said that registration for the spring classes are already filling up and is encouraging local residents who may be interested in attending these classes to register early.
Though no final price has yet to be set for spring painting program, registration for the four-hour class is generally about $65 and includes all the necessary tools needed to paint.
Residents desiring additional registration information are encouraged to contact the Parks & Recreation Department via phone (276) 223-4519 or email recdept@wytheco.org. The class is open to the general public ages 15 & up.
Click LIKE to share this article with your friends on Facebook!