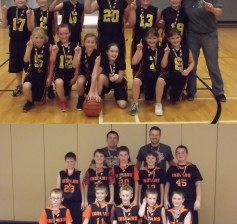 WYTHEVILLE, Va. – Wythe County's Department of Parks & Recreation wrapped up the 2014 youth junior varsity basketball season this week with a championship double header game at the Wytheville Wellness Center.
First to take the court were the fourth and fifth grade boy's tournament finalists, the Max Meadows Pioneers and Rural Retreat Indians (Black). The Indians put up 22 points compared to the Pioneers' 7, in the 24-minute game, capping off their perfect season with a 9-0 record.
Led by coaches Brian Smith and Michael Spraker, the Indians competed against three other county teams over the course of the regular season, earning championship medals for their entire team.
After the boys basketball game, the communities of Max Meadows and Rural Retreat were then represented once again in the JV – girls championship game, between the Lady Pioneers and the Lady Indians.
This time, Max Meadows would be the victors, as the Lady Pioneers outscored the Lady Indians by a margin of 24-11.
Head coach Ann Morgan's Lady Pioneers posted a perfect 10-0 season, competing in a combined 5-team league comprised of three Wythe County teams and two from the Town of Wytheville.
To celebrate what Wythe County Parks & Recreation youth sports coordinator Scotty Vaught referred to as "one of the league's better seasons," Radford University has dubbed Sunday, December 21, 2014, as "Wythe County Day" and will provide the county's junior-varsity youth boys and girls basketball players, coaches and league volunteers with free entry into the 2 p.m. game versus the Cornell University.
One highlight of the game will take place at halftime, when Wythe County's JV youth basketball teams will scrimmage against each other on the university's hardwood court before the Big South Conference home crowd.
The varsity youth basketball season will begin in Wythe County in early January for children in grades 6th and 7th. Parents wishing to sign their children up for varsity youth basketball are encouraged to contact the president of their local booster club or Wythe County's youth sports coordinator Scotty Vaught at 276-223-4518.
Click LIKE to share this article with your friends on Facebook!