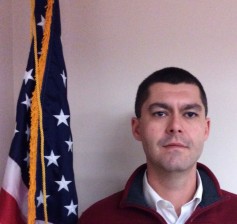 WYTHEVILLE, Va. –Wythe County's Department of Emergency Services is now under the direction of newly appointed department head, Jason Kinser.
Kinser, 34, is a native of Tazewell County, Virginia, and comes to Wythe County with at least sixteen years' worth of experience in fire and EMS.
Prior to coming on board as Wythe County's emergency coordinator, a position which was vacated earlier this fall, Kinser served as administrator for both the Jeffersonville Rescue Squad and the Bluefield Rescue Squad.
The southwest Virginia native's entire adult career has been spent in the emergency services field. A nationally registered paramedic and certified fire instructor, county officials say Kinser's addition to the emergency services team will bring a balanced understanding of the needs of both the county's volunteer fire departments and rescue squads.
In addition to serving as emergency coordinator, the former paramedic will also be tasked with acting as the county's first EMS director. Through this position, Kinser will assist the three rescue squads based in Wythe County with cost saving measures such as combined purchasing.
"It is my goal to foster a spirit of cooperation and efficiency within the county's nine emergency services agencies," said Kinser, who stated that he will be reaching out to leaders within the local rescue squads and fire departments in the days to come.
Click LIKE to share this article with your friends on Facebook!