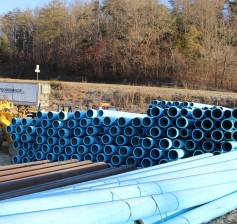 BARREN SPRINGS, Va. – Work is set to begin in just a matter of days on the Barren Springs Waterline Extension, which will provide reliable drinking water to residents in the Barren Springs community.
According to county officials, construction on the waterline is set to begin in the opening days of January and is slated to be completed within a year's time.
The Wythe County Board of Supervisors has made completion of this project one of its primary objectives for 2015, as dozens of households in the community are presently without reliable drinking water.
In addition to providing residents in the southeastern Wythe County community with a dependable source of potable water, the waterline will also add an extra level of fire security that may equate to a reduction in insurance rates for local citizens.
"The new waterline will prove invaluable to local fire crews in the area, as fire hydrants will be available approximately every 1,000 feet," said Jason Kinser, Wythe County's emergency coordinator.
Wythe County officials say the Barren Springs waterline is but a piece of a much larger economic development effort focused in the area. A separate waterline is also scheduled to link Jackson Memorial Elementary School to the New River Water Plant – the same source of water Barren Spring residents will soon be enjoying. County leaders also say that a sewer system is in the works for Exit 24, which they believe will allow opportunities for restaurants and additional businesses off the Interstate – 77 exit.
"Earlier this year, the Board made the decision to step in and provide relief to the residents of Barren Springs – I'm just glad to see that we've finally reached the point dirt is being overturned and pipes are being laid," said Tim Reeves, who serves as Chairman of the Wythe County Board of Supervisors.
Reeves went on to state that the overall project will serve as a critical component for attracting businesses and growth in the area.
Click LIKE to share this article with your friends on Facebook.