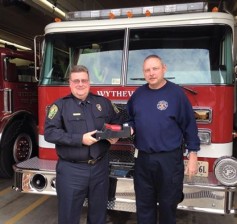 WYTHEVILLE, Va. – This past week, Wythe County's emergency coordinator Jason Kinser presented members of the Wytheville Fire Department with a thermal imaging camera.
The handheld, heat resistant device can be used to aid firefighters in navigating through places where zero visibility exists, such as inside a smoke-filled building.
The rescue device was made possible thanks to a Wythe—Bland Foundation grant secured by the Wythe County Board of Supervisors. In total, the grant has provided funding to purchase mobile and portable radios, helmets, scene lighting, personal protective equipment, and a handful of other items emergency responders say will prove invaluable in their efforts to protect the lives and property of Wythe County citizens.
According to county officials, the portable camera will be able to provide "crisp images" of smoke filled rooms and other places where no light exists.
"Visibility is absolutely non-existent inside a smoke-filled room," says Kinser, who is wrapping up his second full month on the job as Wythe County's emergency coordinator.
"This camera will actually be able to paint a real-time moving picture for our firefighters so that they can navigate through smoking buildings — aiding them in rescue operations."
"Fire departments in Wythe County date back to before 1835 and the ever evolving role of the men and women who serve in these departments has made it necessary for their equipment to change as well," stated Wythe County grant coordinator Jeremy T.K. Farley, adding, "The Wythe—Bland Foundation, along with the three local governments serving our citizens, has recognized this fact and the people who call this wonderful area home have benefited from this strong partnership."
In total, the six fire departments serving Wythe County are responsible for protecting more than $2.6 Billion worth of property.
Click LIKE to share this article with your friends on Facebook!