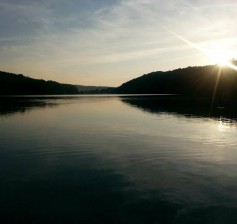 With over 100 miles in hiking trails and dozens of playgrounds, campgrounds and recreation parks, Wythe County tourism officials are touting the many outdoor recreation opportunities available to visitors and county residents.
This Friday, May 15, the Rural Retreat Lake & Campground Park will open to campers for the 2015 season.
The campground, which is managed by the Wythe County Department of Parks & Recreation, is located on the banks of the Rural Retreat Lake – a 90-acre impoundment owned by the Virginia Department of Game & Inland Fisheries.
The price for camping at the lake is unchanged from last year at $18 per night for primitive sites and $28 per night for sites with water and electricity. Wythe County residents will receive an additional 10% off their purchase price.
Highlighting the campground's opening weekend will be the Youth Fishing Day, slated for Saturday between 9 a.m. and 1 p.m. During this time, fishing at the lake's stocked trout pond will be reserved exclusively for children ages 15 and under. Adult supervision is required for all participants – the Rural Retreat Lake will remain open to anglers of all ages throughout the entire day Saturday.
In addition to the Rural Retreat Lake & Campground Park, the county also manages parks in Wytheville (Ager Park) and Max Meadows (Max Meadows Community Field).
Ager Park is an 18-acre recreational park located near Fairview Industrial Park in Wytheville. The park features a +10,000 sq. ft. children's playground, two baseball / softball fields, two tennis courts, batting cage, picnic pavilion and a basketball court.
The Max Meadows Community Field offers a quarter-mile long walking track and multi-purpose field for baseball, soccer and community events.
The county's parks and recreation department allows private citizens the opportunity to reserve the Max Meadows Community Field and pavilions at Ager Park and Rural Retreat Lake.
Residents wishing to make a reservation for the fields, pavilions or campsites are encouraged to contact the Wythe County Parks & Recreation Department 276-223-4519.
Click LIKE to share this article with your friends on Facebook!