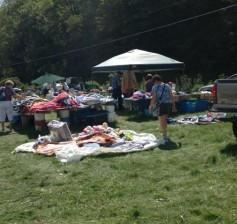 WYTHE COUNTY, Va. – Wythe County tourism leaders are calling the second annual U.S. 21 Road Market an overwhelming success.
The +100 mile long three-day road market stretched from Wytheville to Harmony, North Carolina, passing through a dozen localities along historic U.S. Route 21, known in Wythe County as Grayson Turnpike.
The multistate road market is part of an initiative known as "Take a Break from the Interstate," a committee comprised of tourism leaders from western North Carolina and southwest Virginia.
This year's road market was expanded by more than 30 miles and featured hundreds of yard sales, sidewalk sales and community events along the route.
Wythe County Tourism Director Jeremy T.K. Farley said that he has been in close contact with businesses along Wythe County's stretch of U.S. 21 and that all have reported substantial earnings thanks to the three-day event.
"It was incredible to see the level of commerce taking place along Grayson Turnpike," said Farley, adding, "Not only does the road market benefit local businesses, but it puts cash directly into the hands of Wythe County residents – I talked to several people who made hundreds of dollars in just a single day thanks to hosting a yard sale. That money, the majority of which came from outside of our county, will be used to buy back-to-school clothes, pay bills, make home renovations – a number of different things. It will be cycled through our local economy over and over again."
Bobby Primm, co-owner of the Lakes to Florida Grill, just south of the town limits of Wytheville, said that his restaurant saw 907 transactions in just a single day.
"Many of these transactions had five or six people… For a little country restaurant, that's huge," said Primm.
The Lakes to Florida Grill went through five gallons of tea Saturday.
Primm went on to say that he was amazed at the number of people who stopped, "We're glad the county is taking a proactive role in promoting businesses – we're definitely seeing a bounce from it."
Business owners along the route say that several northbound yard sale goers (many from Georgia and South Carolina) spent the night in Wytheville, stopping only at locations on the right side of the road going up and coming down – this allowed them to stop at all the locations without ever having to cross traffic.
Corrine Stoots, owner of Stoot's Corner said that her convenience store / restaurant enjoyed extraordinary sales thanks to the road market.
"We set a very high record. I don't know that we'll ever be able to beat it," said Stoots.
A litter farther south in the community of Speedwell, Debbie Huffman, owner of the Speedwell Market, echoed the sentiments felt by fellow Wythe County business owners.
"Our sales were very good – the deli did great. The road market is really good for the community," said Huffman, adding, "Something like this is very beneficial for the local families and brought a tremendous number of people into Speedwell."
Huffman said she talked to a lady from Utah who was visiting her family and decided to attend the road market. Several other customers were from Florida.
Organizers of the road market say they plan to host the annual event on the last full weekend of July and are encouraging people to save the date for next year's road market: July 29, 30 and 31, 2016.
Click LIKE to share this article with your friends on Facebook!