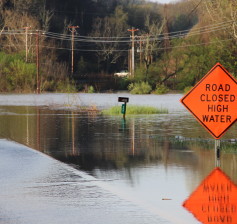 WYTHE COUNTY, Va. – Wythe County's emergency management team is urging Southwest Virginia residents to prepare for flash flooding and wind damage over the next several days.
The concern comes on the heels of nearly a week of daily rainfall that is being coupled with additional National Weather Service forecasts calling for "widespread heavy rain across the region from early Friday morning through Saturday night."
These forecasts are separate from Hurricane Joaquin, which is expected to brush the Virginia coastline early Monday morning.
According to the Virginia Department of Emergency Management, Joaquin strengthened to a Category 3 storm with 125 mph winds early Thursday. State officials are preparing as if this could be comparable to Hurricane Isabel, which affected all of Virginia in 2003.
"The ground is saturated across our region and the creeks and rivers are already high from this week's rain," said Wythe County Emergency Coordinator Jason Kinser.
State officials say that rainfall forecasts are predicting as much as 12 inches over the next 7 days.
County emergency officials say their biggest concern is flash flooding, especially problematic along Wythe County's hundreds of miles of creeks, streams and river frontage – Wythe County serves as the watershed boundaries for the Kanawha and Tennessee Rivers.
Earlier this morning, in compliance with the county's Flood Plain Management Ordinance, Wythe County Building Inspector Tim Spraker issued a notice requiring all recreational vehicles located within flood plains to be moved by 5:00 pm Friday.
"We are requiring campers and trailers parked in flood plain areas to be moved immediately," said the building inspector, adding, "Once water levels rise, the likelihood of these vehicles being swept away is heightened – at that point they are no longer recreation vehicles but are instead four-ton wrecking balls plowing through anything in its path downstream."
In a release sent this morning, Appalachian Power officials stated, "Based on the forecast, at Appalachian Power we will have our own crews and contract crews on standby… We do anticipate some outages due to rain from this event falling on already-saturated ground in our Virginia service territory."
Wythe County officials are urging residents not to be caught off guard by the potentially hazardous weather.
"People should take this weather event seriously and prepare in advance," said Wythe County public information officer Jeremy Farley, stating, "Exercising good judgment and taking a few minutes to prepare may save a lot of people future heartache."
The Virginia Department of Emergency Management has issued several survival tips to residents in preparation of the weather event. Below are just a few, the complete list is accessible by visiting www.vaemergency.gov/readyvirginia/stayinformed/floods.
• Do not drive through high water. Stay at home as severe weather arrives.
• Know the weather terms and what you should do:
o Flood Watch or Flash Flood Watch: There is an increased possibility of flooding or a flash flood in your area.
o Flood Warning: Flooding is occurring or will likely occur very soon. If emergency officials advise you to evacuate, do so immediately.
o Flash Flood Warning: Flash flooding is occurring. Seek higher ground immediately – do not wait for official instructions.
• Be prepared to evacuate. If evacuated, do not return to your home until local officials say it is safe. After floodwaters recede, roads could be weakened and could collapse. Buildings might be unstable, and drinking water could be contaminated.
• Do not walk through moving water. What might seem like a small amount of moving water can easily knock you down.
• If you depend on electricity for medical equipment or a mobility device, ensure all batteries are fully charged each day and be prepared to evacuate with extra batteries and any charging equipment you will need.
• Obtain cash in advance in case ATMs are down due to power outages.
• If you plan to use a generator, buy fuel now.
• Store water in big pans and the bathtub for personal use before the storm in case of a power outage.
• Stay away from downed power lines, trees touching lines, and anything else that is touching a power line.
• Flood water might cut off access to roads. Be prepared to stay where you are until floodwaters recede.
• Determine in advance the safest route from your home to a safe place that can protect you from high winds or flooding. If there is a flood, you may have only minutes to get to safety.
Click LIKE to share this article with your friends on Facebook!