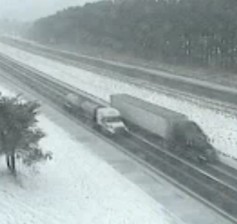 Jeremy T.K. Farley — February 14, 2016
WYTHEVILLE, Va. – The National Weather Service in Blacksburg, Virginia, has issued an "urgent winter weather message" to residents of Southwest Virginia (including Wythe County), North Carolina and Southern West Virginia.
In the message, which was released at 2:22 p.m. on Sunday, the federal agency warned that "a very cold air mass" will remain over the region through Monday.
Forecasters say the disturbance will cause snow throughout the evening and into tomorrow.  This precipitation will eventually turn to a wintry mix sometime Monday afternoon, as warmer air begins to spread into the region from the south.  Weather officials warn that "significant accumulations of winter precipitation are likely."
According to the weather service, a winter storm warning remains in effect until noon on Tuesday.
Meteorologists predict that snow and sleet accumulation may range from 5 to 10 inches, along with ice accumulations between a tenth and one quarter of an inch, with the highest ice totals occurring along the Blue Ridge.
Local temperatures are expected to range from the single digits into the lower and mid 20s throughout the remainder of the day and tomorrow, rising into the lower and mid 30s by Tuesday morning.
The National Weather Service warning stated, "Travel will become dangerous to perhaps impossible in some areas.  Only travel in an emergency.  If you must travel, keep an extra flashlight, food, water, and a blanket in your vehicle in case of an emergency."
Wythe County residents are encouraged to exercise wisdom throughout the winter storm.
Click LIKE to share this article with your friends on Facebook!