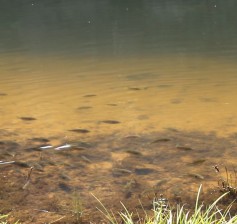 WYTHEVILLE, Va. – Wythe County's Parks & Recreation Department is teaming up with the Virginia Department of Game & Inland Fisheries (DGIF) to host a "Kids Fish Day" on Saturday, May 14, 2016.
The event is just one of dozens of activities DGIF will be hosting throughout the Commonwealth in 2016, aimed at giving children 15 and under the first opportunity to fish in freshly stocked waters.
Unlike in previous years, the 2016 Wythe County Kid's Fish Day will be held at Cripple Creek's Collin's Cove / Cole Branch section (roughly midway between the communities of Cripple Creek and Ivanhoe, off Pope Rd.), rather than at Rural Retreat Lake's trout pond.
"Moving the event will provide an opportunity for the kids to fish in a creek," said Kevin Williams, director of Wythe County's Parks & Recreation.
According to Williams, the event is slated to begin at 9 a.m. and last until 1 p.m.
Participants are encouraged to register (once at the event), as prizes will be awarded by drawing throughout the day.
Individuals wishing to learn more about the event may contact Kevin Williams at 276-223-4519.  Businesses interested in donating door prizes are also encouraged to contact Williams.
Click LIKE to share this article with your friends on Facebook!