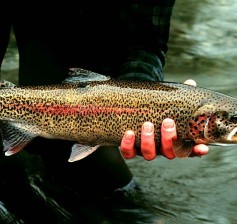 SPEEDWELL, Va. – The Speedwell Volunteer Fire Department will be hosting their 37th Annual Trout Fishing Tournament this weekend. Proceeds from the two-day event will be used to cover the day-to-day operation expenses of the local fire department, as well as prizes for winners.
The tournament will be held across from the Wythe County Convenience Center in Speedwell in what is known locally as "Linkous Bottom" and is scheduled to last from 8 a.m. to 5 p.m. on Saturday and 7 a.m. to 4 p.m. on Sunday.
Registration is $35 for a single day and $60 for two days. Children 12 and under will only be charged $15 per day when accompanying a paying adult.
According to the department, trout will be stocked into Cripple Creek daily and free camping will be available to participants.
The 1st place winner will receive a trophy and $150 for the biggest trout, 2nd place will be given $75 and the 3rd place participant will win a $50 gift card. A daily prize will also be provided for the first stringer of fish caught, as well as a prize for the smallest trout.
All participants must have a valid Virginia fishing license, but will not be required to possess a trout stamp.
Individuals wishing to learn more about the tournament are encouraged to call (276) 621-5192.
The Speedwell Volunteer Fire Department would like to thank the many sponsors responsible for making this event possible, including the Speedwell Market, Black Water Outpost, Sexton's Inc., Tommy Hundley State Farm Insurance, Grayson National Bank, D&L Pre-Owned Vehicles, Wythe Eye Associates, BB&T, First Bank and the LaRue Family.
Click LIKE to share this article with your friends on Facebook!