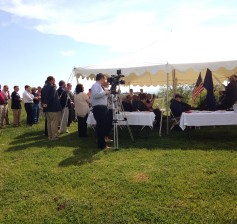 WYTHEVILLE, Va. – This morning, representatives of Branch Botanicals, Inc. announced that the company would be establishing its headquarters and first manufacturing facility in Wythe County's Progress Park.
The company plans to plant millions of cherry seedlings at the industrial park's Lot 20, relying on many Wythe County farms to cultivate the crop once the seedlings are large enough to be transferred.
"The processes we have developed over decades of trials involve proprietary techniques that — to my knowledge — have never been used in this manner. The results have been the development of multiple unique products that provide effective natural alternatives to commonly used synthetic formulations," commented Dr. Don Roberts, founder of Branch Botanicals.
According to company officials, the oils will be used in the creation of a number of products that are in high demand globally.
"We will provide the first commercially available all natural and organic cherry flavoring to food and beverage manufacturers right from our Wythe County facility," said Dr. Dan Tolley, President of Branch Botanicals, Inc., adding, "We will also be producing natural fungicides, insecticides, an antimicrobial, and preservatives from the oil of the plants."
Making a $21 million capital investment in the project, leaders of Branch Botanicals say they plan to employ at least 40 full-time employees within the first three years of the operation.
State Senator Bill Carrico presented Wythe County Board of Supervisors Chairman Tim Reeves with a check in the amount of $200,000 from the Virginia Tobacco Region Revitalization Commission – an investment the Tobacco Region Opportunity Fund made in the Wythe County based project.
"Today is a great day for the workers of Wythe County. Once again, another job creating project has recognized the reality of Wythe County being the ideal place to invest in the future – our infrastructure, interstate system, workforce and climate all work together to make our community a prime manufacturing location," said Reeves, following the announcement.
Wythe County competed with Maryland, North Carolina and Ohio for this project.
Click LIKE to Share this Article With Your Friends on Facebook!