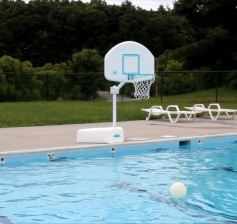 WYTHE COUNTY, Va. – The Wythe County Department of Parks & Recreation has announced that the Rural Retreat Lake Park's pool will operate on extended hours during the week of July 4th.
Though normally closed Monday through Wednesday, Kevin Williams, parks and recreation director, said that the county has decided to keep the pool open for campers and local residents throughout the entire week.
The pool will be open between noon and 6 p.m. Monday, July 4th through Saturday, July 9th, then resume normal hours the following day, Sunday July 10th (Sunday 1-6 p.m., Thursday – Saturday 12- 6 p.m.).
Williams said 2016 has offered prime pool weather for patrons of the park and that the campground is already booked for the weekend of July 4th.
Last year, the Virginia Tourism Corporation named the 74-campsite, county managed park to be one of "Virginia's 13 Favorite Campgrounds for Summer."
Offering a stocked trout pond, 95-acre fishing lake, 9-hole Frisbee golf course, junior-Olympic size swimming pool, as we as numerous birding and wildlife hiking trails, the lake park has grown into a regional destination, becoming part of the Independence Day traditions of hundreds of families.
Though the park is booked for the weekend of July 2-3, Williams said there are a few campsites remaining and available for the actual night of Monday, July 4th. Wythe County residents, military personnel and veterans, as well as senior citizens are eligible for a 10% discount upon request.
To make reservations, individuals may call (276) 686-4331.
Share this article with your friends on Facebook!