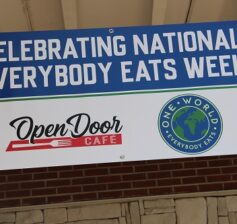 WYTHEVILLE, Va. – The Wythe County Board of Supervisors recently recognized the Open Door Café and encouraged citizens to support National Everybody Eats Week.
Hope Inc. Executive Director Andy Kegley said officials across the nation are striving to raise awareness this week for those dealing with food insecurities during National Everybody Eats Week.
Kegley said pay-what-you-can restaurants are trying to draw attention to the pay-what-you-can model and the food insecurities in our communities.
"Almost 12 percent of our population in Wythe County meets the definition of food insecure which means they may not know where their next meal is coming from," Kegley said.
The Open Door Café will participate in National Everybody Eats Week, a week long campaign hosted by One...
Read More